The European Award for Citizenship, Security and Defence
Introduction
The European Award for Citizenship, Security and Defence is intended to reward outstanding efforts towards promoting European citizenship, and European security and defence awareness. The prize was first awarded in 2011, under the High Patronage of the President of the European Council.
The prize is organised annually by the association "Civisme Défense Armées Nation" (CiDAN), together with the European Interparliamentary Security and Defence Association, and with the support of the Behörden Spiegel.
The jury, which met on Tuesday, October 11, 2022 at the André Maginot National Federation in Paris, awarded the following awards:
The European Prize "Citizenship, Security and Defence" is awarded to the European Defence Network,
which brings together students and young professionals from different European countries, working on defence and security issues, with the aim of fostering knowledge of the institutions, as well as a European awareness, contributing to the development of a  European defence.
The Prize for European Values is awarded to Dr Hans-Gert Pöttering,
who has held leading positions, in particular that of President of the European Parliament from 2007 to 2009, and who has published widely on European issues, for his total commitment to the European construction, as well as to the defence and security of the European Union.
Prize for Citizenship to the Norwegian Life Boat Society,
For the Professionalization of training and education of the  Norwegian volunteer lifeboat crews. A new, structured, progressive, and comprehensive teaching and education program for Norwegian volunteer lifeboat crews has reduced the risk from serious accidents and improved organizational confidence and capability. This has directly benefited those 4200 individuals assisted and rescued by them each year, 
Prize for remembrance and reconciliation to Mr Hervé Altmeyer,
who has worked with energy and dedication for the Franco-German reconciliation, in partnership with the Deutsche Gesellschaft für historische Uniformkunde, mainly through ceremonies and activities in period uniforms. 
The award ceremony has taken place on 30 November 2022 during the Berlin Security Conference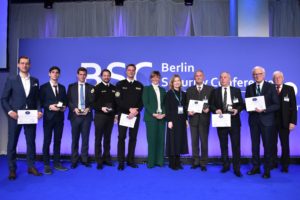 photo :Behoerden Spiegel /Trenkel