The European Award for Citizenship, Security and Defence
Introduction
The European Award for Citizenship, Security and Defence is intended to reward outstanding efforts towards promoting European citizenship, and European security and defence awareness. The prize was first awarded in 2011, under the High Patronage of the President of the European Council.
The prize is organised annually by the association "Civisme Défense Armées Nation" (CiDAN), together with the European Interparliamentary Security and Defence Association, and with the support of the Behörden Spiegel.
Agenda 2020, providing the CORONAVIRUS crisis allows it
11 May : call for  applications starts
30 September : deadline for receiving the applications
24 November 19h00 : award ceremony during the Berlin security conference
Winners 2019
The jury of the European Prize "Citizenship, Security and Defence" met, on October 1, 2019, in Paris, at the headquarters of the Federation André Maginot, 24 bis Boulevard Saint Germain.
After deliberation, the 2019 list goes to the following candidates:
European Award  "Citizenship, Security and Defence"
To  the De Gasperi Foundation,
Special award "European Awareness of Security and Defence"

to the Faculty of Political Science and Sociology of the Complutense University of Madrid (UCM), for the master EuroMed : "the EU and the Mediterranean".
Special award "remembrance"
to the Albert Schweitzer International Centre, located in Niederbronn-les-Bains (Alsace/France)
to the four-monthly magazine "The European – Security and Defence Union"
The award ceremony took place during the Berlin Security Conference on 26 November 2019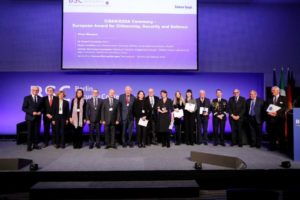 photo : Klaus Dombrowsky
Each winer has received the Medal of the President of the French Republic
If you have any question write to : euro-award@cidan.org
 ********
In 2018 the jury met in Paris on 30 October and the award ceremony took place on 27November during the Berlin Security Conference
You can see the winners at the address : https://cidan.org/winners/
Each of them, in addition to the Prize, has received the Medal of the President of the French Republic